Treisha Hylton, Wilfrid Laurier University
The FIFA Women's World Cup will commence on July 20 in Australia and New Zealand. As the largest women's sporting event in the world, the Women's World Cup gives the opportunity for elite women footballers to represent their country and compete at the highest level on the world stage.
With stronger competition, greater investment and forecasted increased viewership and attendance, this year's Women's World Cup promises to be better than ever before.
Australia has sold out its opening match (83,500 seats) and over a million tickets have been sold heading into the week before the tournament starts. With more televised and streaming options than ever before, there is more opportunity to watch the games.
At least seven teams have a strong possibility to be crowned eventual champions. Newcomers will try to upset the powerhouse United States team, who are defending their title and attempting to win three FIFA championships in a row.
In a friendly match leading up to the Cup, Zambia won a match against one of the favourites, Germany. The unexpected victory signals there could be several compelling underdogs to root for this year.
For the love of the game
I cheer for Jamaica, Canada, Haiti, Zambia and Morocco. As a former midfielder, fan, and Black Feminist scholar advocating for gender equity in sports, I find there is much to love about football. Also known as soccer in North America, it is the most beautiful game. It is simple and magical, and perhaps one of the most emotional sports.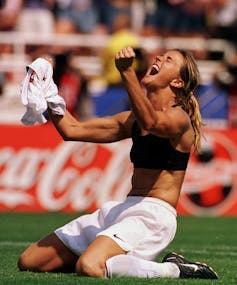 Though 24 years have passed, I can still vividly recall U.S. soccer player Brandi Chastain's memorable celebration after she won the FIFA world championship on penalty kicks.
This remains a moment of reckoning for both women's football and women's sports. Since then, football has grown exponentially with a host of women's professional leagues in Europe and North America.
For the 2023 Women's World Cup, there is more investment than ever before. VISA has stepped up to become the first official sponsor and FIFA has made a commitment to pay each player at least US$30,000.
Teams representing Zambia, Haiti and Morocco — whose journey to the World Cup is both remarkable and inspirational — shows the growth of the game internationally.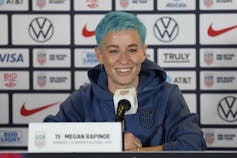 There are a historic nine women coaches in this year's Women's World Cup. There is also greater intent and focus on telling the inspirational stories of the women and their journeys to get to the World Cup.
Megan Rapinoe deserves her flowers in particular. As one of the most influential football players of our time, she will be retiring later this year. She has provided a road map for girls and women to not just be heroes on the field, but to be one for broader society by advocating for change on and off the field.
Can't just 'play through it'
In sport, there is a common saying: "Play through it." This means that, regardless of the obstacles one faces, one must persevere and keep pushing forward to achieve their goal.
For women playing football in this year's Women's World Cup, there are issues and concerns they must play through. Unfortunately, most of these obstacles exist outside the corners of the football pitch. Lack of funds for training and pay equity continue to be at the forefront.
Though playing for their country is a source of pride, players need their countries to provide better financial supports that are, at the very least, equivalent to their male counterparts.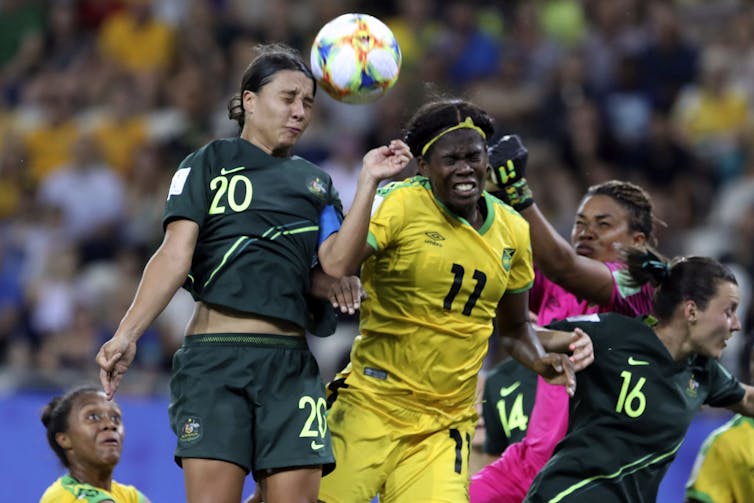 In June, the Jamaican team shared an open letter outlining the lack of support they received leading up to the World Cup. They have had to play through subpar training and playing conditions, disorderly travel accommodations and without contractually promised compensation.
The South African team recently refused to take the field, expressing the failure of their football federation to provide the necessary training resources and pay equity for the World Cup. Women's teams from Canada, England and Spain have also expressed concerns with pay equity and support disparities.
Sexual violence in sport
There are other conditions that women should never have to play through. Sexual harassment is one of the most pervasive forms of violence against women and it continues to be an ongoing and egregious issue in women's sport.
The Women's World Cup is no different and FIFA still has a lot of work to do to prove that they are prioritizing the safety and well-being of women athletes.
For instance, there have been sexual misconduct allegations against Zambian coaches. These allegations were silenced, as the Zambian women's team is winning and getting impressive results. Sexual assault allegations have also been raised with the Haitian team.
I will watch with love for the game, but also with a critical eye towards equity and justice for the women playing. Addressing the many systemic sexist issues is really the key to a successful FIFA Women's World Cup. Women's sport will be unable to reach its full potential while women and girls are still at risk of sexual violence.
Looking forward to 2027
How can we ensure a better Women's World Cup in 2027? It must highlight the progress of women's football outside the field, where women and girls are safe and free from verbal, emotional and sexual violence.
Players must have their countries invest in them and the generation of girls ready to participate after. A lot depends on what is done right now. While we support and cheer for the women players in the World Cup, we must simultaneously advocate for justice and protection for them and for continued reform in the women's sports sector.

---
Treisha Hylton, Assistant Professor, Faculty of Social Work, Wilfrid Laurier University
This article is republished from The Conversation under a Creative Commons license. Read the original article.